Introduction
I need a speaker on my make my own raspberry pi handheld gaming console.
Here is the documentation from my experiment to connect a amplifier to the headphone audio output on the raspberry pi.
Amplifier HXJ8002
I bough this amplifier since it is single channel and has a working voltage range from 2-5.5 V.
http://www.dx.com/p/hxj8002-mini-audio-amplifier-module-deep-blue-291705#.VK6Oe82G_3A
"On-board HXJ8002 single channel 3W, BTL bridge connected audio power amplifier chip​; Working voltage: 2.0~5.5V; Standby current: 0.6uA (Typical value); Maximum distortion is 0.5% under output average power is 1W, 1kHz input signal frequency and 8ohm load; When THD + D<10% and the input frequency is 1kHz, output power is 3W (3ohm), 2.5W (4ohm), 1.5W (8ohm)." - dx.com
Pin connections
VCC to +5v on RPi
GND to GND on Rpi
L to Left channel
R to Right Channel
V1 to speaker black
V2 to speaker red
I soldered simple pin headers to the pinouts
Speaker 18mm Speaker: 4 Ohm, 2.0 W
"This small, 2W speaker is a compact way to add loud, high-fidelity sound (compared to typical units this size) that can bring your project to life. It includes four 1.0mm-diameter mounting holes." - lawicel
I soldered cables to the red and black solder areas on the back
3.5mm plug stereo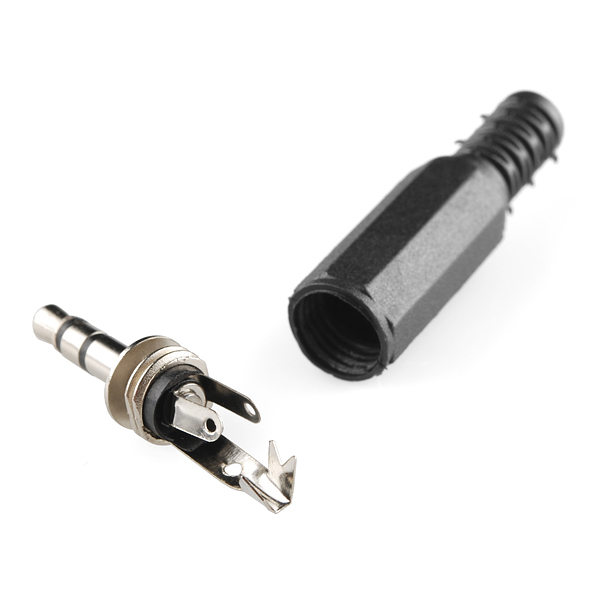 Left and right are the short pins and GND is the long one. Image from sparkfun
I soldered red wire to left and right and a black wire to the gnd
play wav
http://www.raspberrypi-spy.co.uk/2013/06/raspberry-pi-command-line-audio/
Play mp3
http://www.raspberrypi.org/documentation/usage/audio/